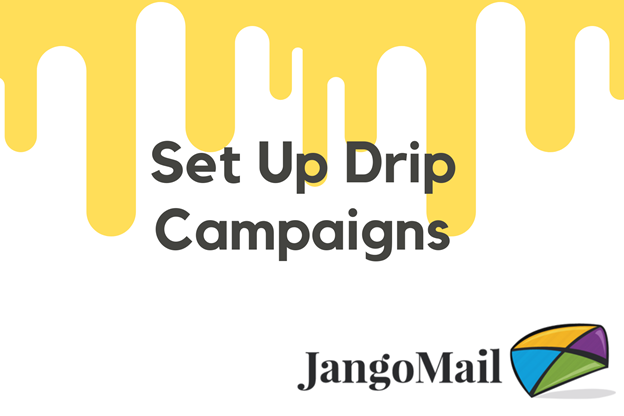 What is a drip campaign?
Drip campaigns, also known as Autoresponders, are a series of automatic emails sent at predetermined intervals. They get their name from the way you send emails, by dripping emails in an automated fashion, slow and steady.
If you have ever set up an Out of Office reply – you have used an Autoresponder. When we talk about drip campaigns here at JangoMail, we call them Autoresponders.
There are lots of reasons to set up Autoresponders. Since they are automated emails, you save time. They allow you to send highly personalized and relevant content. Whether you are emailing a new customer, current customer, or prospect, you can use Autoresponders in various ways. They allow you to nurture the relationship with your customer or move prospects through the marketing funnel.
If you review your own personal email inbox, you will likely find several emails that have been sent to you as part of a company's drip campaign or series of Autoresponders. Taking a look around my own Gmail account, I see a few emails asking me to come back to my shopping cart. I haven't ordered my kids' school pictures yet…so I have been getting regular email reminders to buy before they are gone. I signed up for a free trial for an app recently. Since I signed up for the app, I've gotten emails the last few weeks about useful features within the app, discount offers to sign up, and how-to guides. I am sure that those emails are all part of a free trial drip campaign.
What do I need to set up Autoresponders?
At its most basic, all you need to set up an Autoresponder or series of Autoresponders is a campaign and a list. You also need the ability to send emails automatically based on certain events – and that's where email marketing software like JangoMail comes in handy. To set up an Autoresponder in JangoMail, here are the basic steps:
Choose or create a list
Create your campaign(s)
Go to Automations and create and assign your Autoresponder(s)
It's that easy! When a new email address is added to the chosen Autoresponder list, it will send the Autoresponder campaign(s) you have set up.
Autoresponders and drip campaigns are most effective when you utilize additional fields in your list to send targeted and relevant content.
The fields of data in your list can be used to personalize content in your message. This is as simple as using a first name in the subject line or greeting – to personalizing the sales rep or product displayed in the message. For more advanced personalization, JangoMail offers a conditional logic feature. With conditional logic, create one campaign with different content sent to different recipients.
Ideas for Autoresponders
Need some drip campaign ideas? Here are some Autoresponders to get you started:
Welcome Emails
Every time you get a signup for your email marketing, it is an opportunity to send a welcome email and make a great first impression. Introductory emails, also known as welcome emails, should be sent every time a recipient signs up on an opt-in form.
Anniversary or Milestone Emails
Celebrate your customers with easy-to-send milestones or anniversary emails. Remind them of their loyalty and reward them with a freebie or discount.
Abandoned Shopping Cart
If your business sells products online, it may make a lot of sense for you to send Autoresponders if a shopper abandons their cart. One or more aptly-timed emails can help sway a consumer to finish their purchase.
Re-engagement Campaigns
Automate reaching out to leads that have gone cold or renew subscriber interest with re-engagement campaigns sent via a series of Autoresponders.
How to set up Autoresponders with JangoMail
Autoresponders are based on lists. When an email address is added to the Autoresponder list, the recipient will automatically be sent all emails set up as Autoresponders for that list.
After creating your list inside JangoMail, you can create different Autoresponders that will automatically send to new list members based on specific time intervals.
You have the option to set up one Autoresponder or set up multiple Autoresponders for the same list as part of a series.
Below is a brief overview of the steps to set up Autoresponders with JangoMail. See here for our full tutorial.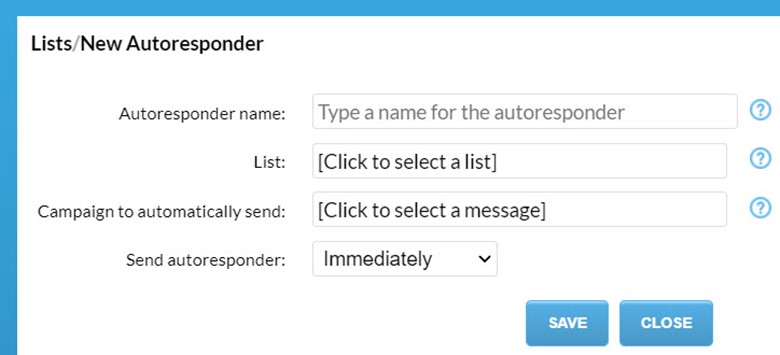 Autoresponder name: This is the label you will give your Autoresponder. You will only see this in your account.
List: Select the list for your Autoresponder.
Campaign to automatically send: Select the campaign that should be sent.
Send autoresponder: Schedule when you want the Autoresponder to send. Choices below:
●      Immediately
○       This will send the Autoresponder as soon as the recipient is added to the list.
●      After join time
○       This will send the Autoresponder based on when your recipient was added to the list. Choose X minutes, hours or days after join time.
●      At an exact time
○       This will send the Autoresponder at an exact time each day, to anyone who was added to the list in the last 24 hours.
 If you have questions or need assistance with setting up Autoresponders or any of JangoMail's Automations, give us a call at 888-GO-JANGO or Contact Us.