Connecting to a Website Database
JangoMail can connect in real-time to an Internet website database if the database is connected with the web server. JangoMail supports the following web/database server platforms:
Active Server Page website / Any ODBC compliant database
Active Server Page website / Microsoft SQL Server Database
Active Server Page website / Microsoft Access Database
ASP.Net website / Microsoft SQL Server Database
PHP website / MySQL Database
JSP / Custom Web Platform / Any Database (based on custom script)
This option is most useful when the database and website is hosted at an external hosting company, separate from the network that the JangoMail user is on. The JangoMail server communicates with the web server via a special web server file created by JangoMail, and then the web server communicates with the web site's database server, upon which the web server returns the relevant data to JangoMail.
Below is a diagram of how this operation works: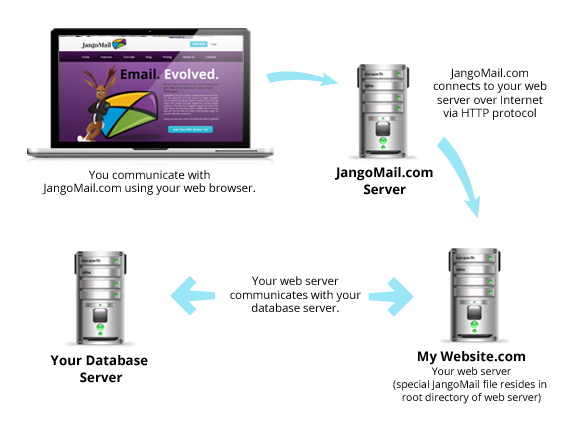 Read the Tutorial on Web Databases

JangoMail is Perfect for Active Server Page Developers
Here is the problem:
There are plenty of commercially available ASP email components which you can install on your web server and then write an ASP script to loop through your database to send out mass emails. The problem is these components have no way of handling replies back to mass emails, like unsubscribes and bounces. Moreover, there is no method provided to track the results of mass emails, like message views and clicks of web links within messages.
JangoMail is the solution:
Without installing any software on your web server, JangoMail.com securely connects to your website's database to pull data in real-time prior to each mass email campaign. This way you ensure you always send to an up-to-date list, since it comes right from your database. Furthermore, JangoMail can also handle unsubscribes, bounces, and other incoming messages and then securely write back to your web site's database according to SQL queries that you define!